CRx Image (Computed Radiography HD Scanner-CR)
Key Features
25 Micron Resolution
16 Bits/65536 Shades of Grey
True Flat Bed Scan Path Process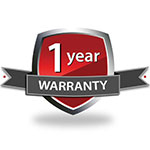 DICONDE Compliant
OS-Windows 7, 8, 10 - 64 Bi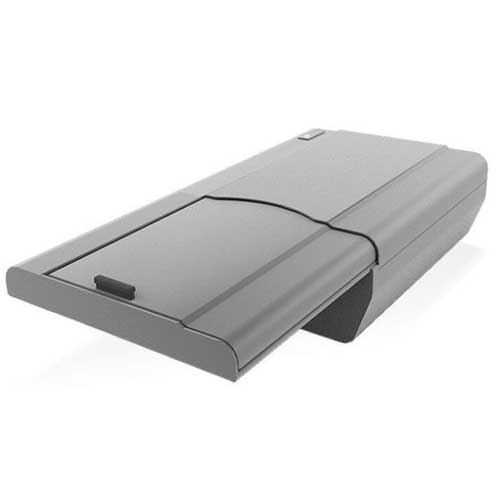 CRx Image
CRx Image Scanner is Integrated with the latest technology to obtain the Ultra HD Quality Image like never before and second to none in the industry.
Using Gamma/X-Ray with 25 micron resolution, 16 bit logarithmic image acquisition combined with highest signal to noise ratio results in acquiring and viewing the optimum ultra HD quality images. Using either ?exible or rigid cassettes with the best in state of art software loaded with powerful features makes it extremely easy to use and experience the di?erence. The Scanner meets all the requirements of international standards like ISO 17636-2, EN weld standards, ASME and ASTM DICONDE.
Why is it different from others?
Unique scanning technology (True Flat Bed Scanning) extremely enhances the life of (IP) plates and makes it economical in long run.
Ultra HD image quality with the state of art optics and software with unique features.
Scan from range 25 micron to 200 micron depending on application.
Large scanning area which can scan (IP) plates up to 14" x 17".
Scan multiple (IP) plates at one time.
Easy operating system: Windows 7, 8, 10 - 64 bits.
DICONDE complaint.
Extremely economical and return on investment.

Highest Image Quality
Incredible image quality.
- High Sensitivity.
- High Resolutions.
- High Definition.

Spatial Resolution:
Obtaining the basic spatial resolution accurately and quickly.
Unique Flat Bed Scanning
The unique true ?at bed scanning completely ensures NO bending of the IP plates during scanning process.

VERSATILE
Allow both hard and flexible IP Plates.
The maximum size of the IP Plate to scan is 14" x 17" which accommodates almost all industrial application.
Multiple IP Plates can be scanned together.

FEATURES - Scanner & Software
Obtain images exposed from X-Ray & Gamma Ray.
Image acquisition is extremely easy in just 3 steps: Expose | Loading the IP | Scan ON for image acquisition.
The erase is automatic and immediate after the scanning.
Can scan from range 25 microns to 200 microns based on application requirement.

Powerful software and extremely easy to use. High resolutions touch screen Windows tablets/Laptops or desktops can be used for image acquisition, analysis and viewing. The software meets all the international stringent standards such as:
- ISO 17636-2
- ASME Sec V Article 2
- ASTM DICONDE

The Software can be customized to customer requirements. The Basic available software tools:
- Zoom, Pan, Rotate, Flip
- Text, Shapes, Distances, Areas
- Invert, Window/Level, Histogram
- Crop, Mask, ROI, Overlay
- Best Fit, 1:1 Display, Split Display
- Undo, Redo, Reset, Presentation States
- Configurable UI, Multi-language
- Info for Part and Study, Overlay
- Image Storage, Import/Export, DICONDE
- Line Profile, Duplex Wire
- Pipewall Thickness Measurement
- ROI Statistics, SNR, CNR
- Image Processing, Filters, Embossing, False Colors
- Pipelines, Triggers, Plugins . Reporting
- User Logins, Roles


Economical Benefits Using CRx Image
- Long life of IP plate due to true flat bed scan.
- Versatile industrial application. All in one solution.
- Immediate and fast result.
- Millions of image storage in virtually no space.
- Rid from films, processing chemicals and archival.
- Rid from dark room and film storage room.


PORTABILITY
The scanner is extremely rugged and compact. It can be very easily transported in its carrying case with ease.
Application
- Weld Inspection (Pipe, Pressure Vessels & Boilers, Structural, etc.)
- Corrosion (Internal & External)
- Castings
- Forging Components
- Concrete
- Aerospace - Turbine blades, wing inspection and other various critical components.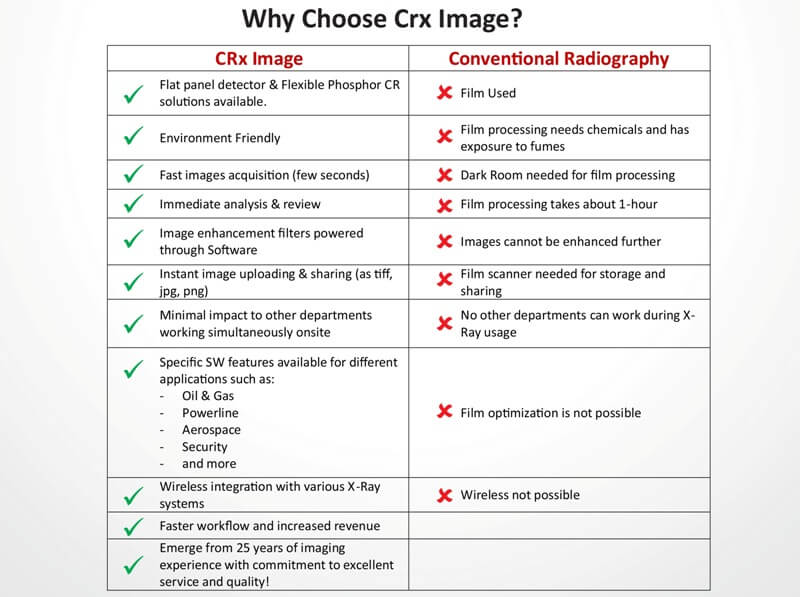 | | |
| --- | --- |
| Grayscale Resolutions: | 16 Bits/Pixel source ?le, 65536 shades of gray |
| Pixel Pitch | 25μ, 50μ, 100μ, 150μ, 200μ |
| Scanning Process | True Flat Scan Path, Single Ac??on Drive System |
| Weight | 79 lbs (35.9 kg) |
| Dimensions | L45" x W23" x H10" |
| Throughput | Minimum/hour: (5 images @ 25 micron, 35 images @ 50 micron, 70 images @ 100 micron) |
| Feed Mechanism | Flatbed / Glass Cassette with Hard Cassette Option. |
| Scanning Area | 14"x17", 10"x12" |
| Power source | 100-240V AC/2.5 A max; 47-63 Hz (Universal) 24V op on available |
| Interface | USB 2.0 |
| Heat Generation | Satndby 230W, maximum 1610W |
| Operation Conditions | Temperature: 0-40oC/32-105oF, temperature change: 0.5oC/min, humidity: 15%-95% RH, magnetic fields: max 1260 μT (in conformance with EN 61000 4 - 8: level 3), 10 A/m |
| Light / Sensor | Diode/PMT |
| Erase Method | Automatic, LED |
| Network | DICONDE Complaint |
| Operating System | Windows 7, 8, 10 - 64 bit |