Handheld Ultrasonic Thickness Gauge - UTG 10
Key Features
Ultra High Performance
High Accuracy
High Resolution (upto 0.001)
Built in Data Logger
Transfer Data to PC via USB for Data analysis, Storage & Printing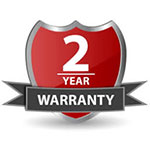 Bright TFT LCD Color Screen
Automatics Guided Instruction to Operate
Measurement Through Paint and Coating
One or Two Point Calibration for Accuracy
High Temperature Measurement up to 100o without HT Probe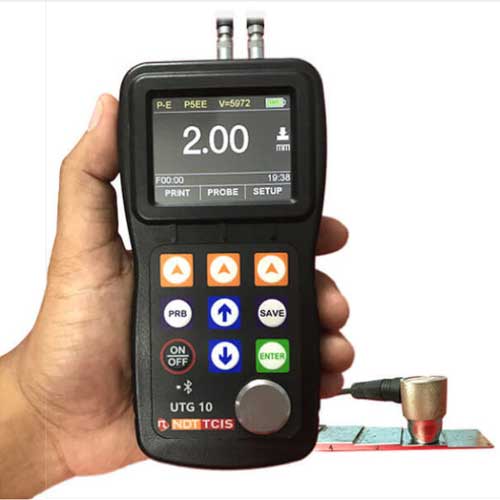 The UTG 10
The UTG-10 is a new generation, innovative & latest Multimode Ultrasonic Thickness Gauge. It is designed with unique features to get the best experience ever in using Ultrasonic Thickness Gauge. A wide range of application with combination of probes make it extremely versatile with highly accurate test results and repeatability. It can be used for almost all Ultrasonic Thickness Gauge applications.
Selection of resolution up to 0.001 & Echo to Echo mode make it innovative and unique from other equipments.
Why is it different from others?
Easy Operation-Years of field experience has been incorporated with latest technology to make it extremely easy to operate.
Finger tip operation.
All calibration and operation are menu-driven as the operator is guided through step by step instructions.
Arrow keys for navigation and to change parameters.
Wide application with combination of probes.
High Temperature thickness measurement.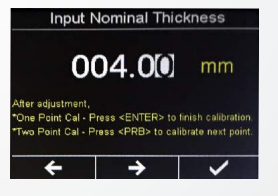 Thickness Measurement Under Coating (Thru-Coat Measurement)
Normally most of the measuring components in industries are coated with paints and other various coatings which affect the thickness measurement with errors. The removal of coatings and subsequent application involves cost & time. With the dual multimode function in UTG-10, the paint is not required to be removed. Accurate metal thickness measurement is obtained excluding the paint/coating thickness.
Range of Probes for Various Applications
A wide range of probes are available for variety of applications for optimum & accurate readings. Probes are available for casting, small diameter pipe (Miniature Probes), high temperature probe and for general purpose thickness measurements.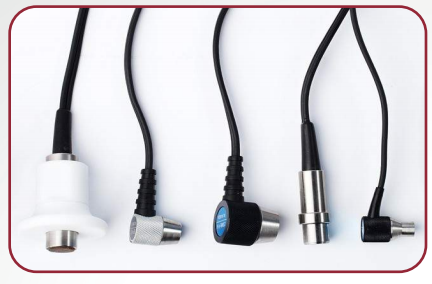 Easy Calibration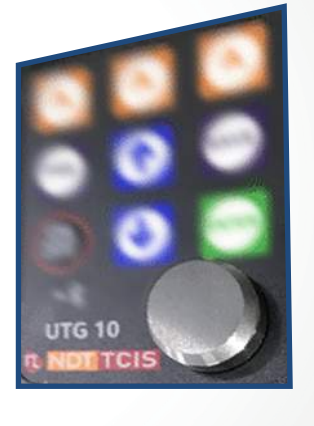 The UTG-10 is completely menu driven for one point calibration and for two point calibrations. The two point calibration gives the most accurate reading between selected minimum and maximum thickness readings. For one point calibration the UTG-10 can be calibrated on block or on other block. The on block is provided for quick and easy calibration without carrying any additional blocks.
Application/Materials
Corrosion monitoring
Thickness of pipes, tubes, plates, castings, plastics and many more.
Ferrous, Non-ferrous, Plastics, Composites and many more.
Thickness Gauge on tanks, vessels, structures, columns, process pipings and many more.
Coarse grain materials.
Components with high temperature
Easy Data Processing Software for Generating Report
The UTG-10 has a built in data logger, with a capacity to store up to 100 files with 100 values for each file enabling to 10000 measurement readings. With the use of Datapro Software, all the files can be transferred to PC and quick report can be generated within no time. Supports Bluetooth (for printing via mini Bluetooth printer) and USB 2.0 Communications.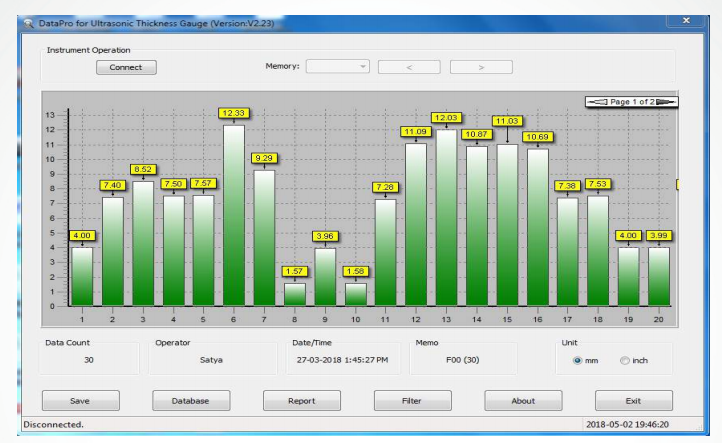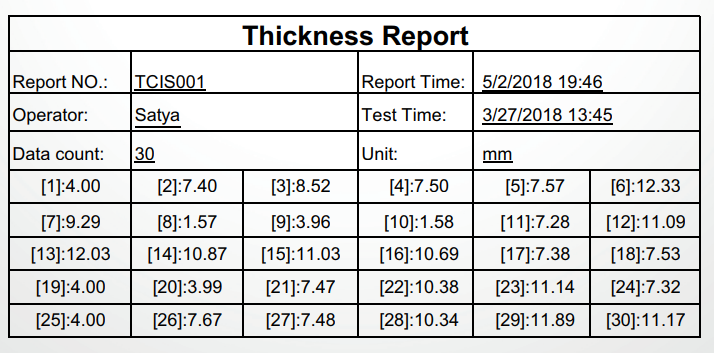 Standard Packing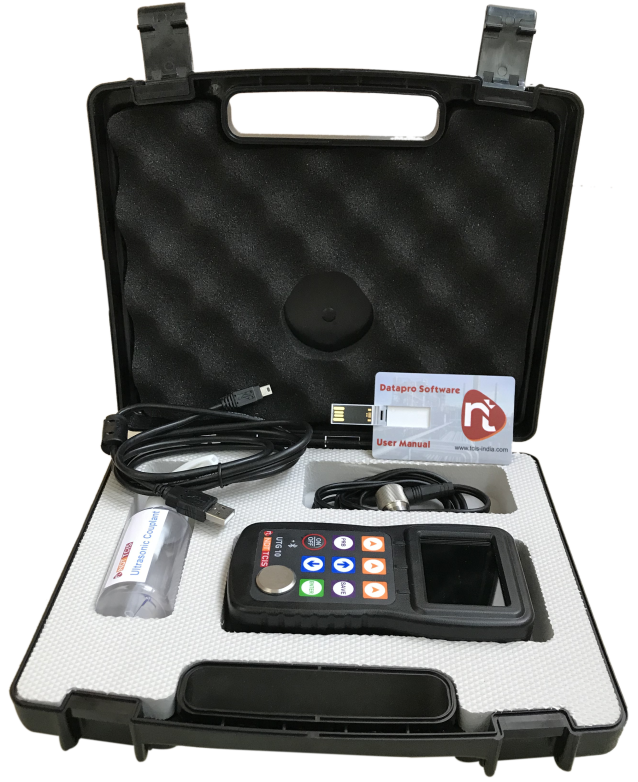 | | |
| --- | --- |
| Operation Principle: | Ultrasonic, Pulse Echo Measurement Method |
| Measuring Range: | Depends on probe and Material. Thick: 0.50-600mm |
| Resolution: | 0.1/0.01/0.001mm |
| Probe Calibration: | Zero calibration, Two-Point Calibration. |
| Display: | 320x240 TFT Colour LCD Screen, Adjustable Backlight Brightness |
| Single /Scan Mode: | Single Mode, Scan Mode, and Diff Mode |
| Velocity Range: | 1000-9999m/s |
| Unit: | More than 1Metric/Imperial unit selectable |
| Language: | English |
| Memory: | 100 groups (100 values for each group) of stored values |
| Communication Port: | USB, Bluetooth |
| Power supply: | Two "AA" size, 1.5 Volt alkaline batteries |
| Working Hours: | 100 hrs |
| Operating Temperature: | -20? to 100? |
| Case: | ABS Plastic. Compliance to high standards. |
| Size: | 150mm X 38mm x 76mm |
| Gross Weight: | 248g |