Handheld Hardness Tester - HT 10
Key Features
Bright TFT LCD Color Screen
Wide Hardness Scale
Versatile Application
Stored Material Group
Multi-Point Calibration for High Accuracy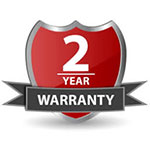 Unique HLX Conversion
Data Storage
Data Analysis Software
Impact Direction-Auto Recognition
Indenters with Wide Design for Various Application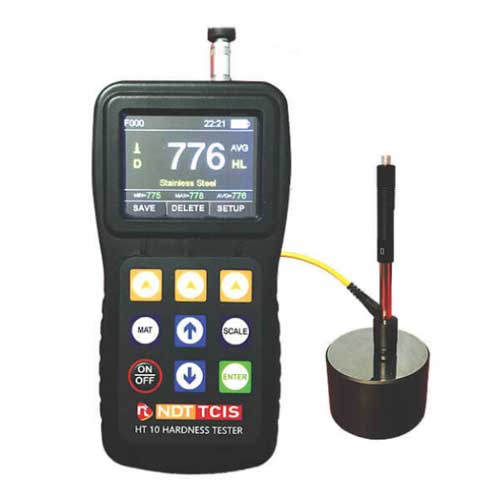 The HT-10
The HT-10 is the latest in portable Leeb hardness testing machines. The equipment is designed with high precision of engineering to give the best reliable, accurate and repeatable results. It overcomes the limitations of typical laboratory bench type large testing machines.
Colour TFT-LCD bright display with adjustable brightness gives a new dimension to clear visual display.
Why is it different from others?
Years of field experience on various application has been incorporated with latest technology to make it extremely easy to operate.

- Easy single point finger tip operation.
- All calibration and operations are menu driven.
- Arrow keys for easy navigation and to change parameters.

Measurement Scale
Almost all general required scales with extremely high accuracy. HL, HRB, HRC, HB, HV, HS scales.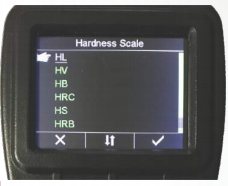 Range of Impact Devices for Various Applications
A wide range of impact devices are available for various complex applications (refer to table 2 and table 3). Hollow cylindrical, grooves, thick/thin parts, hardened layer can easily be tested with extreme accuracy (Refer to Impact Devices Selection Guide table 1).
The equipment automatically detects the impact device when connected.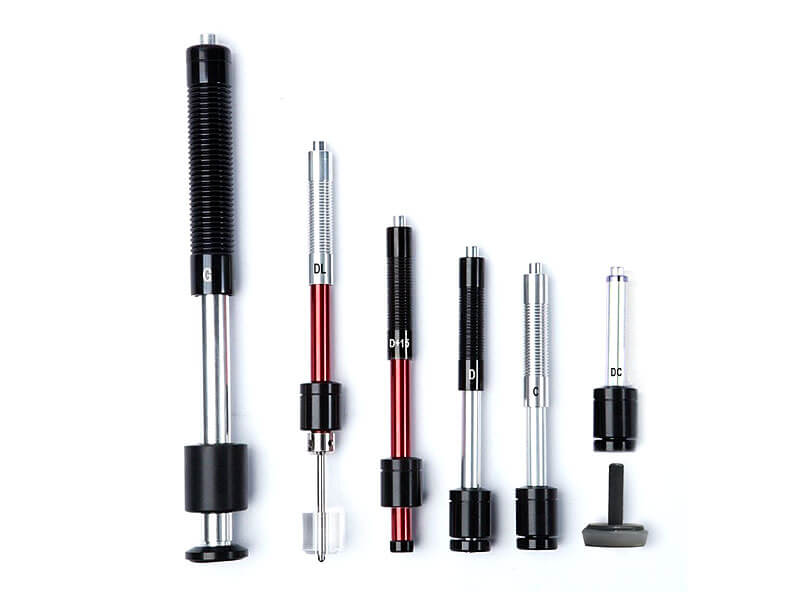 Impact device types => Radius
Impact device type G => Rmin =50 mm
Impact device types D/DC, C and E => Rmin =30 mm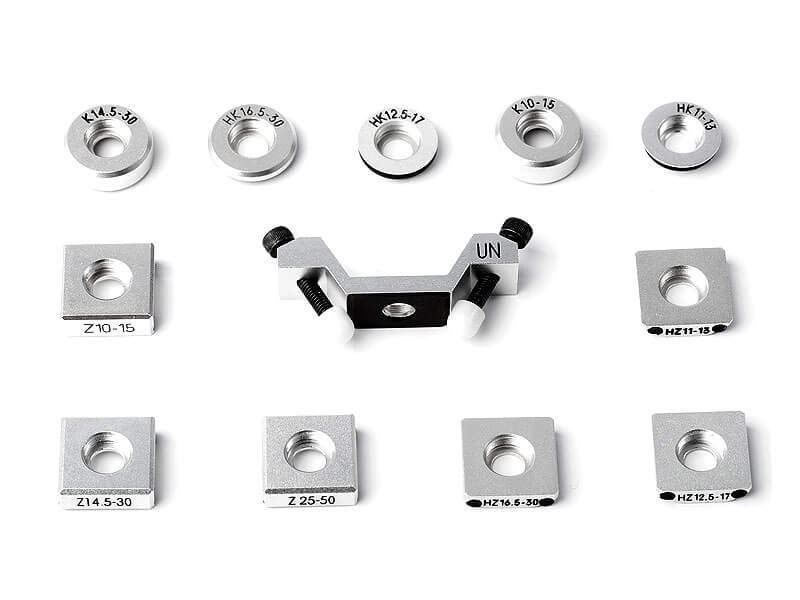 Material Range
Hardness can be taken on wide range of materials. Direct key helps to select material scale (Group) in single menu.
- Steel and Cast Steel
- Cold Work Tool Steel
- Stainless Steel
- Grey Cast Iron
- Nodular Cast Iron
- Cast Aluminium Alloys
- Brass (Copper-Zinc Alloys)
- Bronze (Copper-Aluminium/Tin Alloys)
- Wrought Copper Alloys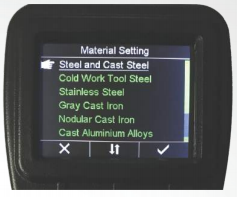 Easy Data Processing
The HT-10 has build in data logger with capacity to store measurements. The data can be transferred via USB 2.0 communication port to PC and a quick report with ease can be generated within no time through Datapro Software. Complete data of hardness values, average values, material, impact directions, date & time of measurement are all captured and stored through which a statistics analysis can be performed.

Operation & Maintenance
The HT-10 is extremely easy to operate. The required keys are direct to operate. The equipment is made of ABS plastic sealed to give a high protection level, thus being very rugged. Only two AA batteries can run for more than 100 hrs.
Application
- Weld/Base Metal
- Pressure Vessels Bearings/Machineries Castings/Blanks
- Pipes/Tubes (Inner and Outer Wall) Gears


Impact Device Types Based on Material Categorization with Measurement Range
Standard Packing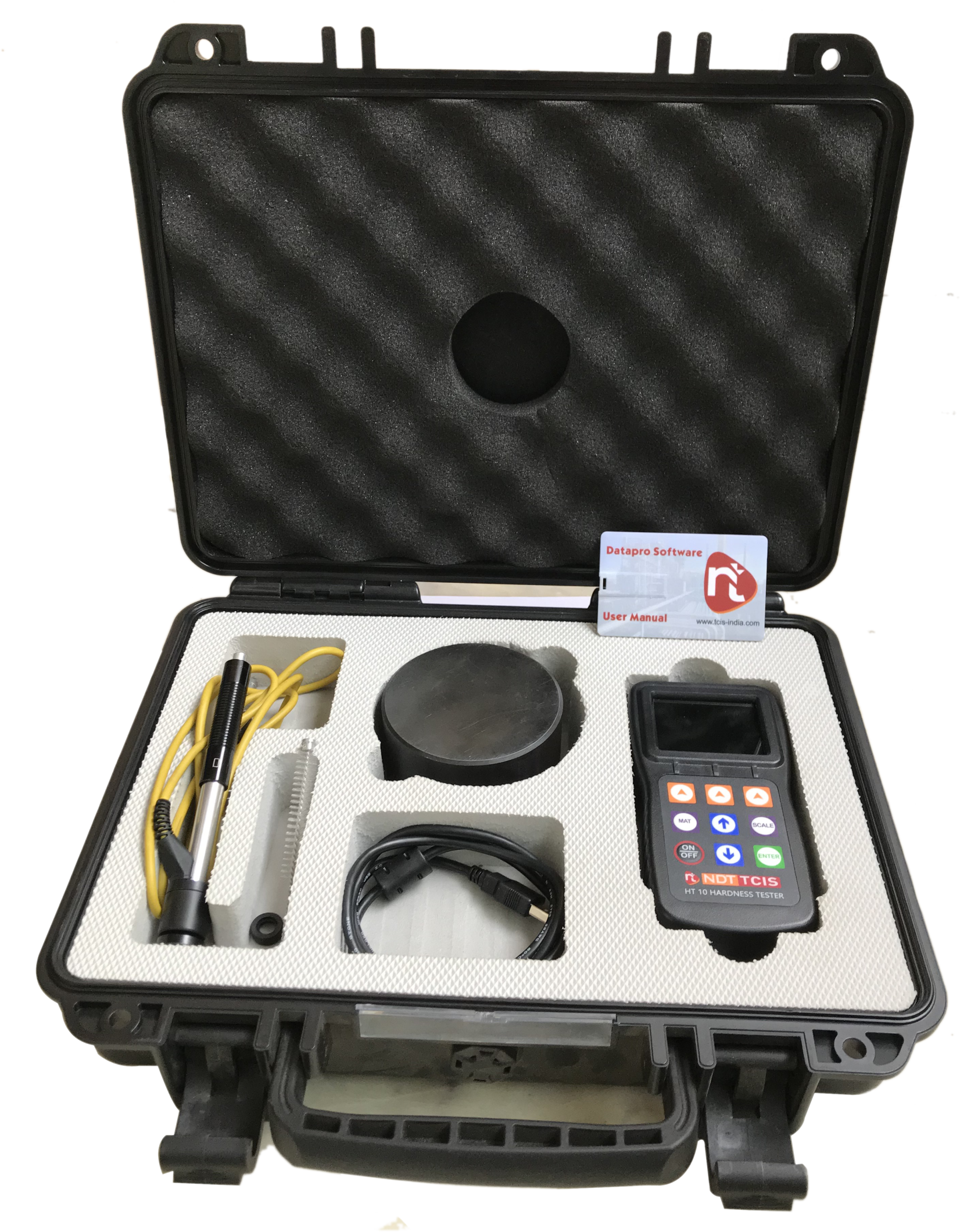 | | |
| --- | --- |
| Operation Principle: | Ultrasonic, Pulse Echo Measurement Method |
| Measuring Range: | Depends on probe and Material. Thick: 0.50-600mm |
| Resolution: | 0.1/0.01/0.001mm |
| Probe Calibration: | Zero calibration, Two-Point Calibration. |
| Display: | 320x240 TFT Colour LCD Screen, Adjustable Backlight Brightness |
| Single /Scan Mode: | Single Mode, Scan Mode, and Diff Mode |
| Velocity Range: | 1000-9999m/s |
| Unit: | More than 1Metric/Imperial unit selectable |
| Language: | English |
| Memory: | 100 groups (100 values for each group) of stored values |
| Communication Port: | USB, Bluetooth |
| Power supply: | Two "AA" size, 1.5 Volt alkaline batteries |
| Working Hours: | 100 hrs |
| Operating Temperature: | -20? to 100? |
| Case: | ABS Plastic. Compliance to high standards. |
| Size: | 150mm X 38mm x 76mm |
| Gross Weight: | 248g |