Video Borescope (HD Remote Visual Inspection)
Key Features
HD Image Quality
Superior Features
Easy Operation
Light & Handy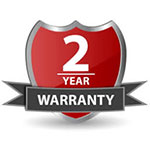 Waterproof
Double Tungsten Alloy Braided Insert Tube of 4 Layers
Intelligent Navigation Menu
Data Storage With SD Card (32 GB)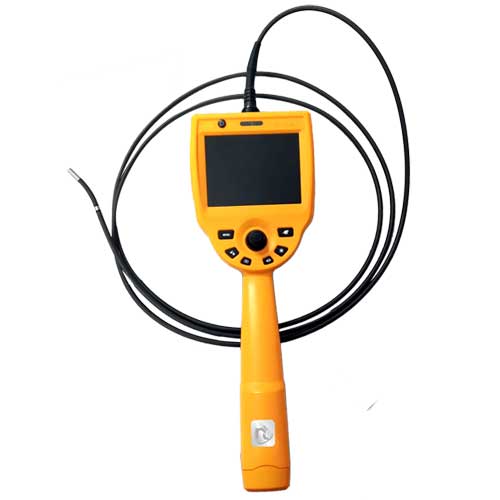 Video Borescope
It is the most powerful, high de?nition and economical video Borescope for Industrial application available in the world. It is an extremely light weight, portable, rugged and easy to use remote visual inspection tool ever.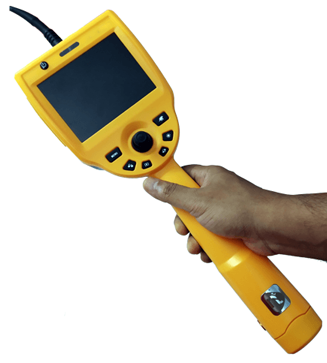 HD - High Quality Image
It is designed and engineered to obtain high de?nition image quality with true image display. Quick start with white balance function and HD image display elaborates every minute inspection details.


Super Brightness
The image quality is dependent on the light intensity at the inspection area. The Video borescope is loaded with the light intensity control function for the probe LED at the top, to illuminate the inspection area according to the requirement. The illumination is extremely high in comparison to any other videoscope resulting in excellent image quality and obtaining true picture with defects even in very dark area.
Precise & High Articulation
The unique joystick gives all together a di?erent experience for probe articulation and precisely delivers its requirement. The joystick has multifunction features with 360 Degree all way articulation, 4 way articulation, high bending angle and most importantly stepped speed control articulation moment required for various critical inspection.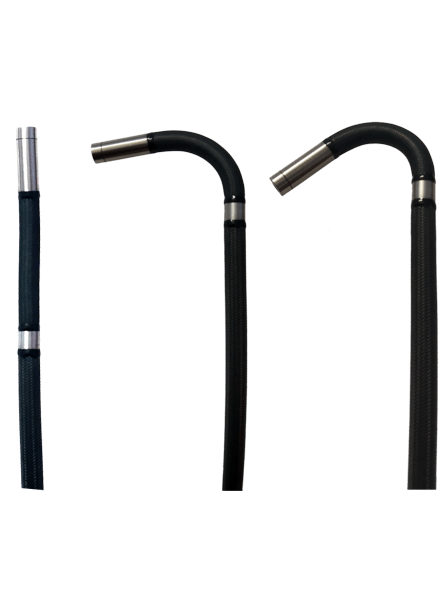 High Strength & Durable Probe
The probe is extremely ?exible and wear resistance. It is double tungsten alloy braided of multiple layers to withstand extreme wear resistance.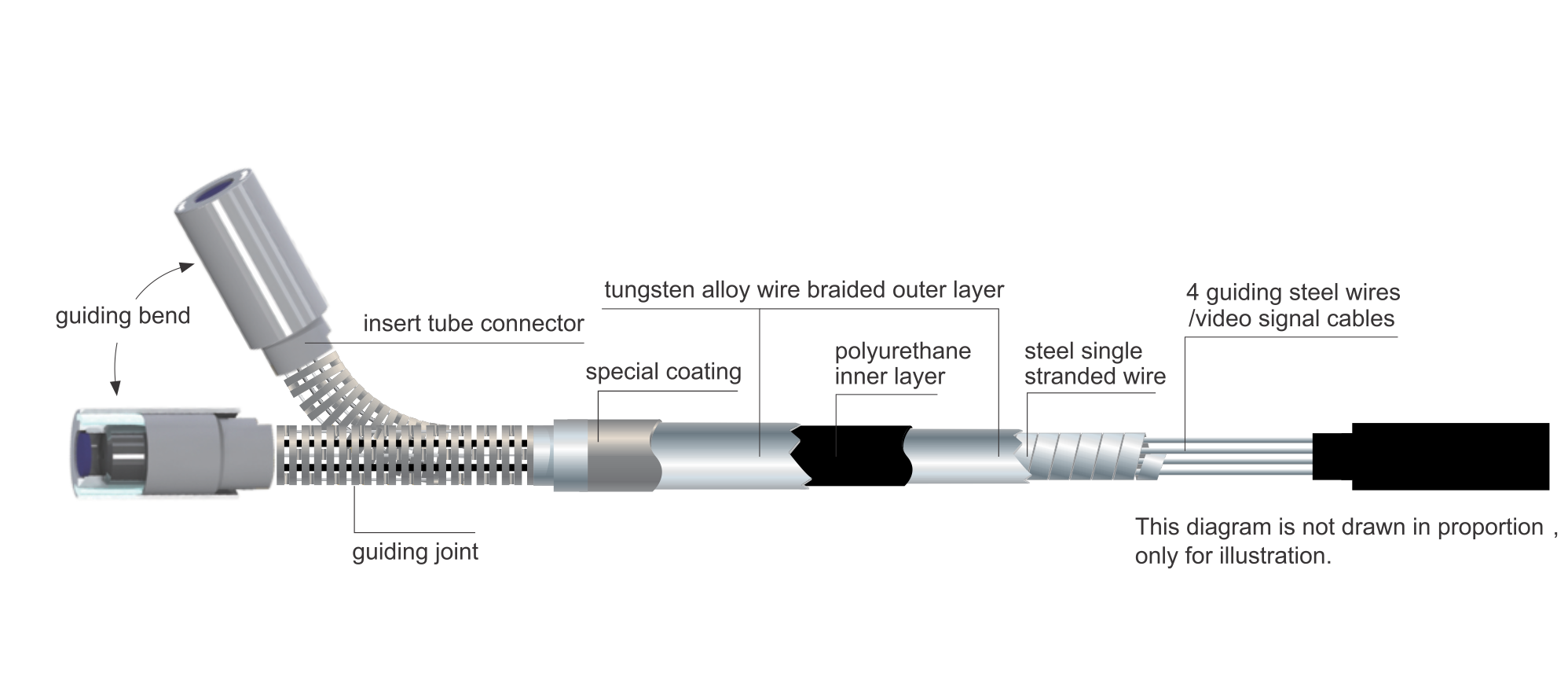 User Friendly and easy operation
Simple menu driven operation makes it extremely easy to operate and handle. With joy stick navigation and direct key operation, it easy for one hand with ?ngertip operation. One click choose option from video to picture. Creation of inspection ?les and observation can be noted and edited in the equipment without the connection of PC.

Screen Coordinate Reference Line
The coordinate reference line scale on the screen provides size information of the viewing target and supports in many other aspects of remote visual inspection.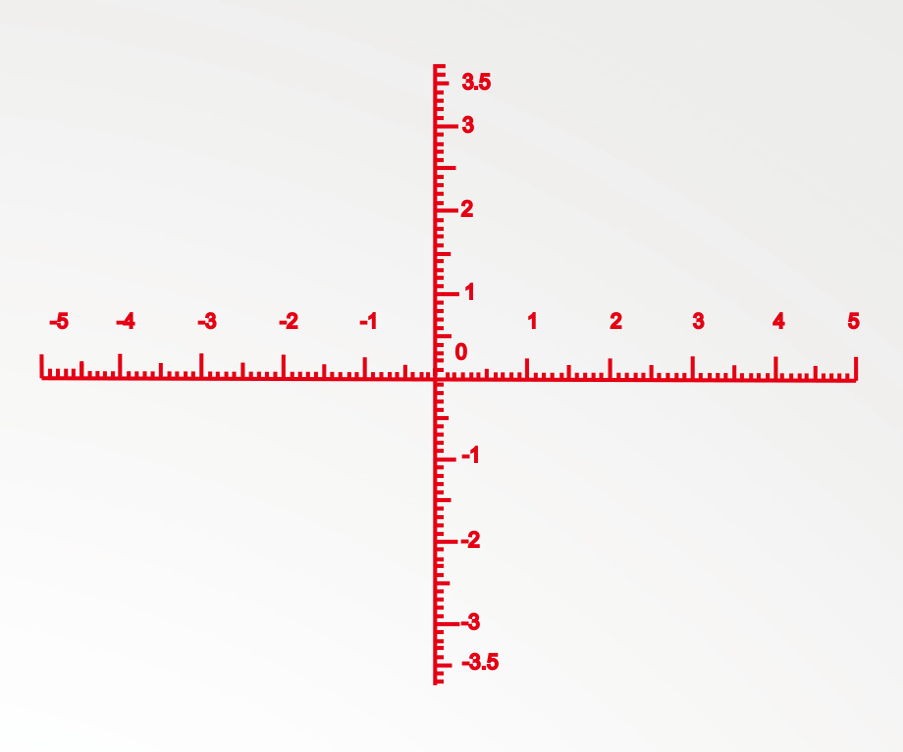 Extra Light Source (LED Torch)
The inbuilt light source (LED Torch) on the top of the Videoscope, focusing towards the probe immensely helps to work in a dark environment. It helps the operator for a safe work practice in dark environment.
Application
- Oil Re?nery
- Power Plant Fertilizer Plant
- Turbine
- Maintenance
- Security
- Aerospace
- Food / Medical manufacturing industries. Automobile
- Pipeline inspection

Standard Packing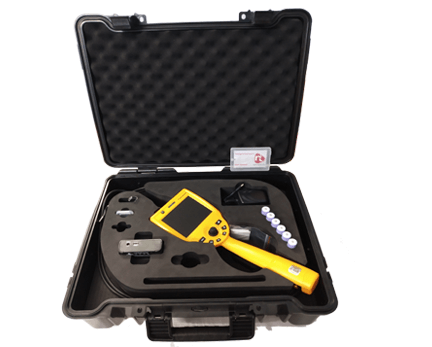 | | |
| --- | --- |
| Diameter of Probe | 4.8mm / 6mm / 8mm |
| Probe Housing | Titanium alloy |
| Pixel Count | 1,000,000 pixels |
| Depth of View | Standard: 7mm-80mm, Optional 10-100mm / 70mm-150mm / 5mm-Infinity / Customizable |
| Angel of Field | Standard: 120o, Optional: 70o/100o |
| Viewing Direction | Standard: Straight view, Optional: Side view, interchangeable tip with 0o & 90o |
| Light Type | White LED |
| Illumination | 100,000lx at a maximum |
| Brightness | Adjustable: 7 Level |
| White Balance | Auto white balance |
| Bending Control | 360o all way motor-driven control |
| Bending Angle | ≥160o +/- 10o |
| Insert Tube Length | Available: 1.5 metre to 7 metre, Customized & Made to Order for Length Beyond 7 metre |
| Insertion Tube | Double Tungsten alloy braided insert tube of 4 layers. Wear Resistant. |
| Language | English, Japanese, Korean, German, French, Portuguese, Spanish and Russian Optional: Other Language |
| Display | 5 inches TFT LCD |
| Image / Video Recording File Format | JPEG, BMP, MP4 |
| Memory | Standard SD card: 8GB, Maximum: 32GB |
| Data Interface | External display: HDMI high de?nition output |
| Bending Lock | By One-key |
| Articulation Control | Step Regulation: High-speed and low-speed bending |
| Lighting (Work Area) | External lighting for Dark environment area work |
| System Weight | 1.35 Kg |
| Working Time | Works more than 4 hours with one set (3 Nos.) of batteries |
| Battery | Lithium Ion batteries: 3200mAh |
| System Operating Temperature | -20oC ~ 62oC (Below 0oC preheating to display is required) |
| Camera Operating Temperature | -25oC ~ 100oC (Below 0oC reduce articulation operation) |
| Store Temperature | -20oC ~ 60oC |
| Relative Humidity Maximum | 80%, Non-Condensing |